Clearwater Beach is one of Florida's most popular destinations. It was named the #1 beach in the US in 2018 and we have to agree it's pretty great. The long, wide stretch of white sand and calm blue water make it a perfect place for family vacations or romantic getaways, but Clearwater Beach is so much more than just the beach. There are activities in Clearwater Beach for everyone, whether you want to be on the go, relax on the beach, or do a little of both.
This post contains affiliate links. This means that I will make a small commission if you purchase a product after clicking on any of them, at no extra cost to you.
Looking for somewhere to stay in Clearwater Beach? Hyatt Regency Clearwater Beach Resort & Spa is a favorite by many, including me!
Fun Things to do in Clearwater Beach, Florida
If you're planning a trip, you probably want to know all about the best things to do on Clearwater Beach. After all, we all want to make the most of our vacations! There are so many attractions in Clearwater Beach to keep everyone busy, so if you're looking for something fun to do, or whether you just want to relax for a while, there will be something for everyone.
Clearwater Beach Boat Tours
While some enjoy relaxing on the beach, others prefer a different view of the beach – from the water! If you want to get on the water, you have plenty of opportunities to do so. Clearwater Beach has dolphin cruises, parasailing, kayaking, jet skiing, sailing, dinner cruises, and more. There are also some unique options such as fishing charters, tiki boat cruises, the ever famous pirate cruise, and boat rentals.
Right across the street from Pier 60, you'll see tons of stands set up. You can inquire there and since that's also the marina, you'll leave from there too, making it super convenient.
Pier 60 and Sunsets at Pier 60
Pier 60 is boardwalk and fishing pier that extends over 1,000 feet into the water. The views from Pier 60 are stunning because you can see way down the coast. You can fish from the pier and there is a bait house there with tackle, rental equipment, bait, souvenirs, and more. Although it's called Pier 60, the area covers more than just the pier itself. Right in front of the pier you'll find a large playground for the kids. It's actually one of the largest playgrounds on the Gulf! But my favorite thing about Pier 60 in Clearwater Beach is their evening celebration. It's an event called Sunsets at Pier 60 and every evening as the sun goes down, you'll find crafts, entertainment, and more. It's really fun and enjoyable for all ages. You can check it out yourself each evening from 6:00 pm to 9:00 pm.
Take the Ferry From Clearwater Beach to Dunedin
You can easily take a day trip from Clearwater to Dunedin with the Clearwater Ferry. Sure, you could also grab an Uber or rent a car, but the ferry is a fun and inexpensive way to get there. Dunedin is one of our favorite Florida small towns to visit and we go often. It's a charming town with several breweries, a cute main street with local shops, great restaurants, and more. There are so many good things about Dunedin that I can't share them all here so I made an entire blog post on things to do in Dunedin if you're interested.
The Clearwater Ferry has a few different locations to board from Clearwater. One of the locations is right in the heart of Clearwater Beach at the marina a few blocks from Pier 60. This is probably the most convenient location for you, but they also have a location in Downtown Clearwater if you're staying off of the island. They depart several times per day and you will want to make reservations ahead of time. You'll select the specific time you want to depart and return. In other words, it isn't a ferry where you buy general tickets and catch whichever boat is running on the hour.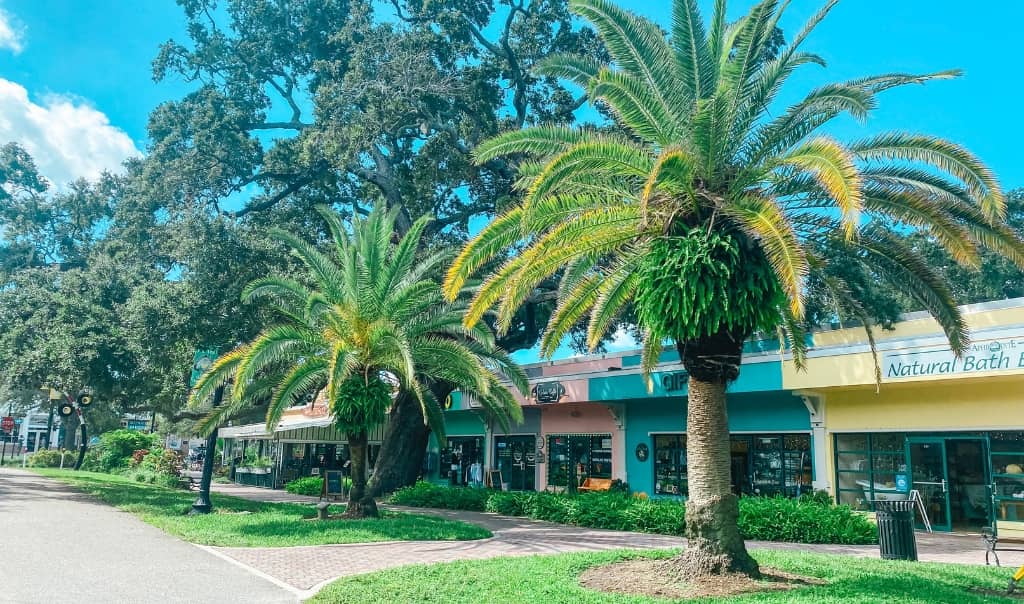 Go for a walk
Ok, I know this might sound silly, but hear me out. Clearwater Beach has the best walking path along the beach. I feel like walking paths along the beach are relatively hard to find on Florida's Gulf Coast. In my experience, when beach towns do have sidewalks, they don't have views of the beach. Not in Clearwater Beach, though! The path is wide, very well maintained, and offers gorgeous beach views. It's a great way to start your morning or wind down at the end of the day.
Jolley Trolley
If you've ever been to Clearwater Beach, you have probably seen the open air trolley making its rounds around town. The Jolley Trolley has a few different routes throughout the beach and also to downtown Clearwater, Dunedin, Palm Harbor, and Tarpon Springs. This makes it a fun and easy way to explore more of the area, or to take a day trip to another Florida town.
Take the Beach Trolley
Did you know that the Suncoast Beach Trolley can take you to a few of the different beach towns in the area? It's important to note that this is different from the Jolley Trolley, which stays around the Clearwater Beach area. The Suncoast Beach Trolley is public transportation that makes stops at popular Florida beach destinations such as John's Pass in Madeira Beach, St. Pete Beach, Treasure Island, and Pass-a-Grille Beach. They also stop in some of the lesser-known beach towns to include Indian Rocks Beach, and Redington Beach. This is a good way to explore some other areas. If you're interested, you can check out the Suncoast Beach Trolley schedule.
Mini Golf
Mini golf is a quintessential vacation activity and if you enjoy mini golf, you're in luck! Captain Bligh's Landing has mini golf with everything you could expect such as caves and waterfalls for you to enjoy. They also have a small arcade room attached.
Clearwater Threshers Baseball Game
The Clearwater Threshers are a minor league baseball team and can be a fun way to spend the evening. There is a tiki bar for adults or if you're traveling with kids, there is also a Kids' Zone.
Indoor Surfing
This is one of the most unique things you can do in Clearwater Beach. The Surf Style has a FlowRider in it, which is an artificial wave machine with a soft surface so that you can fall safely. I do recommend calling before you go because their hours can be different from what is stated on their website.
Clearwater Beaches and Sand Key State Park
This probably goes without saying since it is most likely what brought you here in the first place. Clearwater Beach is a a stunning beach. It was named Tripadvisor's number one beach in the USA in 2016, 2018, and 2019. The beach is very wide with sugar white sand. I also love that there are plenty of chairs and umbrellas to rent so you can be really comfortable all day long. This is especially convenient if you are flying in and can't bring your own beach chairs with you!
Clearwater Beach is beautiful so it can get pretty crowded at times. Just down the road is Sand Key State Park, which offers a quieter beach if you want to change it up a bit while you're visiting. If you are driving to Sand Key, you'll need to pay $5 to park. This $5 covers the entire day, which is a steal in Florida's Gulf Coast where parking can often be $2 per hour.
Clearwater Marine Aquarium
Clearwater Marine Aquarium is the only aquarium in the world that has rescued, rehabilitated and released more than 28 dolphins back into the wild. They also have other interesting animals like manatees, sharks, sea turtles plus many other fun exhibits. The aquarium was made famous by Winter the dolphin from Dolphin Tale, who has sadly since passed away.
Best Restaurants in Clearwater Beach, Florida
One of the reasons I love Clearwater Beach so much is because of how many restaurant options there are. Of all the beach towns in Tampa Bay, I really feel like Clearwater Beach truly has the best variety of restaurants ranging from fine dining to fast and easy. There is truly a restaurant in Clearwater Beach for everyone in your group.
Clear Sky Cafe
This is the best place for brunch. A lot of people agree with me, so make sure you get there early because there is almost always a line! They are also open for lunch and dinner, which is also delicious. They actually have a spicy watermelon jalapeño margarita which is my favorite!
Jimmy Hulas
I love Jimmy Hulas for a quick bite to eat. They make unique tacos and my favorite is the buffalo chicken Caesar salad tacos, they also have a taco with pickles, mac and cheese, and bbq pork. It might sound a little crazy, but it's so delicious! This is a place we can't stay away from. We often go to Clearwater Beach saying we'll try something new only to end up at Jimmy Hulas. They are a small Florida chain with locations in other cities such as Jacksonville, Orlando, and Ormond Beach, Florida.
Palm Pavilion
Palm Pavilion is my favorite moderately-priced restaurant and they're located right on the beach. Picture yourself listening to live music, eating fish tacos, sipping an amazing frozen drink, and looking at the water. When I picture myself dining on vacation, the place I picture in my mind looks exactly like Palm Pavilion. They do have a bar area if you just want a drink.
Frenchy's
Frenchy's is famous in Clearwater Beach and has four locations in Clearwater Beach alone. My favorite location is Frenchy's Rockaway Grill because this one is right on the beach. Of course, this makes it everyone's favorite so the lines tend to be longer at this location. They are famous for their grouper sandwiches, which you can get blackened (my favorite), fried, or grilled. I love their grouper sandwiches, but I think I'm even more obsessed with their garlic crab fries.
Columbia
Located in Sand Key, just down the road from Clearwater Beach, Columbia is a traditional Spanish restaurant. Their original location is in Tampa and has been open since 1905! I love the waterfront views from this location but the inside has a unique atmosphere so wherever you sit, you really can't go wrong. Columbia has been visited and praised by USA Today, Rachel Ray, Southern Living, and more. My favorite dish is the 1905 Salad, it is so good.
Bob Heilman's Beachcomber
If you want a nice date night or a nicer place to head with friends, Bob Heilman's is a great option. It is a fancier restaurant for a special date night.
Caretta on the Gulf
This is where you are going to want to go for a fine dining experience. Caretta on the Gulf is a great fine dining option and Clearwater's only AAA Four-Diamond restaurant. It also has ocean views, which is a must for a fine dining restaurant located on the beach.
The Mint Fox
We cannot forget the dessert, which is a must on every vacation! The Mint Fox has a bunch of different flavors to choose from as well as homemade cookies. Or maybe you could do a little of both with their famous serious cookie sundae. The serious cookie sundae is 1/2 pound of a warm cookie topped with 2 scoops of ice cream, hot fudge, and whipped cream. It's great for sharing!
Beach Bars in Clearwater FL
The Brown Boxer
There are actually two Brown Boxers on Clearwater Beach. I'm a bit partial to The Brown Boxer because there used to be a Brown Boxer near Madeira Beach which was our go-to happy hour spot when I first moved here. It might look basic, but it's loved by all! Plus, they have darts and a pool table.
Jamminz
I saw Jamminz many, many times before I ever stopped in. I loved the bright, neon vibe and it kind of reminded me of a college bar in a fun, nostalgic way. When I was finally able to visit, my impressions were confirmed with fun music and jello shots.
Jimmy's Crows Nest
This is one of my absolute favorite spots in all of Clearwater Beach. You won't find better beach views as Jimmy's Crows Nest is located on 10th floor of Pier House 60. But not only are there beach views from this rooftop beach bar, you'll also get views of the main strip and the marina. They also have bar food if you are hungry and we love their guacamole and salsa! I highly recommend checking out Jimmy's Crows Nest as the sun goes down. From the sidewalk below, they have a count down to the sunset every day so you can always check to see what time sunset is and if you are there for sunset, you'll get a free shot.
Jimmy's on the Edge
Jimmy's on the Edge also has breathtaking views. Located on South Beach, you will get city views on one side and a view of the Clearwater Harbor Channel on the other. Like Jimmy's Crows Nest, Jimmy's on the Edge is also on the 10th floor and you'll get a free shot if you're there at sunset.
Surfside Taphouse
This where we bring our beer-loving Iowans. They have 50 beers on tap as well as great bucket and draft specials.
Clearwater Social Brewing Company
While we are on the topic of beer, I have to mention this place. We first visited thinking it would be a brewery. While it's the closest thing to a brewery in Clearwater Beach, just know that it is more of a tap house with others' craft beers. When we visited, they only had 1 of their own beer which was fine for us, but if you want a true, genuine brewery where they brew their own beer, you might be disappointed. It is a brewery-type atmosphere and they have flights, which is a good way to try several different local beers. They also have some fun games such as Nintendo and beer pong.
Clearwater Wine Bar and Bistro
If your group prefers wine over beer, this is the spot! They have over 200 bottle choices and over 50 wine by the glass choices. They also have a great happy hour, but they are closed on Monday.
Wave
Wave is the only nightclub in Clearwater beach complete with DJs and VIP tables. Located in Shepard's Beach resort, Wave is also located right on the beach! You may be spending a little more for drinks here than other bars in Clearwater Beach, but if you want a club experience, it is worth the price. Wave is currently only open on Fridays and Saturdays from 10:00 p.m. – 2:30 a.m. There is no cover charge, but table minimums are required and they do go quickly.
Where to Stay in Clearwater Beach
Accommodations in Clearwater Beach are plenty. The area just south of Pier 60 is the most popular and where you'll find the most beach umbrellas and cabanas for rent. This area is also a bit more crowded because of its prime location. Most hotels are in this area but no matter where you stay, it's easy to get around Clearwater Beach.
Wyndham Grand Clearwater Beach Hotel
The Wyndham is very close to Pier 60 which makes it a very convenient location. The rooms will have either gulf views or intracoastal views as well as a private balcony. Just know that some of the balconies do have obstructed views – they are not always a direct oceanfront room as some of the rooms are on the side of the building. So you'll want to make sure to be aware of this when booking if a direct view is important to you. There is an Asian fusion restaurant on site, a bar and grille that is poolside, and a lobby bar with coffee, drinks, and appetizers. You really don't need to leave the hotel if you don't want to, but if you do want to, everything is close by and walking distance. Below is a photo of the Wyndham Grand from Jimmy's Crows Nest. You can tell in the photo how close it is to the beach and the pier.
Book Wyndham Grand Clearwater Beach Hotel
Hyatt Regency Clearwater Beach Resort and Spa
Also also located very close to Pier 60 and all of the action is the Hyatt Regency. It's actually located right next door to the Wyndham Grand. The Hyatt has private balconies and all of the rooms have full or partial gulf views. There is a pool on the eighth floor which also has a poolside bar and grille. The hotel also has a full service restaurant on site, so similar to the Wyndham, you never need to leave the hotel to enjoy your vacation. There is also a full service spa on site.
Book Hyatt Regency Clearwater Beach Resort & Spa
Opal Sands Resort Clearwater Beach
Like the two other hotels, Opal Sands also has a private balcony in each of its rooms with views of the ocean but unlike the other two hotels, Opal Sands offers unobstructed views. Opal Sands is at the southern end of Clearwater Beach and is directly in front of a jetty (also known as a break wall, which is a structure designed to protect from the waves). It's not directly next to the pier like the Wyndham and the Hyatt so it's a little more quiet but is still walkable to the pier and other activities in the area. Opal Sands has a zero entry pool. The hotel also features a full service spa, an on site Italian restaurant, and a beachside tiki bar. So, again, if you don't want to leave the hotel you don't have to! But like the other two hotels, you're in walking distance to whatever you'd like to do if you do want to leave.
Sandpearl Resort Clearwater Beach
Most of the rooms and suites at the Sandpearl have private balconies but not all of them. Some rooms have city views so if a Gulf view is important to you, you'll want to make sure to double check this when you're booking. There is a beachside grill on site and Sandpearl is also home to Caretta on the Gulf, the restaurant mentioned above which is Clearwater's only AAA Four Diamond restaurant. The pool at Sandpearl is zero entry and lagoon style. They occasionally show movies at the pool as well! If you're traveling with kids, Sandpearl has a kids club, Camp Ridley, which is designed for ages 5-10 and features nature walks, scavenger hunts, and arts and crafts.
Hilton Clearwater Beach Resort and Spa
This is a beachfront hotel closest to Pier 60 on the other side (the north side). There are some interior rooms here with no view which can provide a more inexpensive option. Rooms with balconies are available though they don't all have water views, so you'll want to pay attention to which view you are booking. Like the other hotels, there is an on site restaurant (a Mexican cantina), a poolside bar and grill, and and beachfront tiki bar. The Hilton has two pools, a zero entry pool and an infinity pool. The Hilton hotel is pictured below.
Book Hilton Clearwater Beach Resort & Spa
How do I get to Clearwater Beach?
Clearwater Beach is right on the Gulf of Mexico, just over 20 miles from Tampa. You can easily fly into the Tampa (TPA) airport. Fun fact, the Official Airline Guide has chosen Tampa International Airport as one of the five best airports in the world! Conde Nast has ranked it best airport in the United States and third best in the world as well. Another airport that you can fly into is the St. Pete-Clearwater Airport (PIE). This option is even closer to Clearwater Beach, but it's a smaller airport and therefore not all cities will have the option to fly into this location. Both airports are a quick and easy drive to the paradise that is Clearwater Beach. You could easily rent a car or grab an Uber to get from the airport to your accommodations.
Parking in Clearwater Beach
Clearwater Beach is a popular destination for both locals and visitors, so it can get busy. Some of my friends have driven to Clearwater Beach for the day only to leave due to not being able to find parking. I promise you, you don't need to do that. There truly is plenty of parking in Clearwater Beach. Unless there's a huge event going on, or it's one of the crazy busy weeks (like spring break), you should be able to find parking if you just drive around a bit. The main parking lot located at Pier 60 (160 S Gulfview Blvd) tends to be where everyone goes, so it fills up quickly but this is far from the only parking option.
Not all parking in Clearwater Beach is cheap, however. There are often signs advertising parking for $20 a day, which is pretty expensive to me. However, you can also find parking lots that are around $2.00 per hour. We have never had a problem finding parking, even on days we've sat in an hour of traffic on the bridge leading into Clearwater Beach. The City of Clearwater has an excellent beach parking map that gives you several parking options, but I'll say we've run across even more options that aren't listed on the map.
Getting Around in Clearwater Beach
The Jolley Trolley is a great way to get around. It's an open air trolley that through the years has become a staple of Clearwater Beach. Reasonably priced at $5 for an unlimited day pass, it's a great way to keep your car safely parked while you enjoy the area. It runs Sunday-Thursday from 8:30 am – 11:00 pm and Friday-Saturday from 8:30am – 1:00am. The Jolley Trolley will stop anywhere along their route, all you have to do is notify the driver and they'll pull over to let you out once it's safe. Check out the Jolley Trolley website for their route information as well as other frequently asked questions.
There truly are so many things to do in Clearwater Beach! And it is a great place to visit year-round. The weather, the beaches, and the activities make it one of Florida's most popular tourist destinations. Whether you want a quiet, small-town feel or an upscale experience, there will be something here that fits your interests. I hope this blog post has helped give you some ideas on how to spend time exploring all of Clearwater Beach has to offer during your next vacation! If you would prefer following along on video, you can join the fun on my YouTube channel as well!