Known for its nightlife, water activities, and incredible festivals, there are so many things to do in Key West. People flock to this tiny slice of Florida paradise for many different reasons. While it may not be a common reason to visit, Key West has a lot of haunted history. Key West has been home to pirates, wreckers, and soldiers throughout the years, and many believe that their spirits still linger.
Key West is one of the most haunted cities in the US. And you may be wondering – why is Key West haunted?
There is a lot of history on this tiny little island. While Key West saw its share of death from diseases such as tuberculosis and yellow fever, there are also stories of pirates, murder, hurricanes, and more. And while death itself isn't exactly unusual of a place with so much history, it seems the spirits just don't want to leave. Voodoo has a rich history in Key West and many believe this plays a role. We might never know exactly why, but keep reading to learn more about Key West's haunted history.
Disclaimer: Some of the links in this Key West haunted guide are affiliate links. These means we receive a small commission if you make a qualifying purchase at no extra cost to you. We greatly appreciate your support!
Want to do more than read about Key West haunted places? Book a Key West Ghost Tour to see these haunted places hands on and learn even more about haunted Key West!
Haunted Hotels in Key West
There is no shortage of haunted hotels in Key West. If you don't want to spend the night somewhere that might result in paranormal interaction, I don't blame you. Do I think you'll have something creepy happen at any of these Key West hotels? I really think that depends on a number of factors. Do you believe it's possible? Do you want an interaction? But regardless, I don't think you have anything to worry about. These Key West bed and breakfasts and hotels have been open for years. If there was any genuine danger or anything to be afraid of, we would certainly know by now. You are safe staying at any of these places, but if you want more recommendations, I have an article on where to stay in Key West.
The Artist House
If you have heard any haunted Key West stories, chances are it's the story of the Artist House. This is where the ever-famous Robert the Doll once lived. In case you're not familiar, Robert is basically a possessed doll. He definitely warrants his own section in this haunted Key West post, so you can read more about him below. For now we will focus on where he lived.
Even though Robert hasn't lived at the Artist House in years, supposedly doors still open and close by themselves and lights mysteriously flicker. Some have reported seeing apparitions of a young woman. Reportedly, people see the young woman on the stairs. Others have seen her standing at the foot of their bed. Many believe that this is the spirit of Anne, the wife of Robert the Doll's owner.
The Artist House is a quintessential Key West victorian house and it is high on my list of places I want to stay in Key West. I especially want to stay in the turret suite. The turret suite is where Robert was supposedly the most active, but it is also the most stunning room.
Book The Artist House and let me know how it goes!
La Concha Hotel
The La Concha Hotel is a popular hotel on Duval Street. People claim that a waiter who died there haunts the La Concha. He backed into an elevator shaft which, unbeknownst to him, was actually open. So instead of walking into the elevator, he fell 5 stories down the elevator shaft to his death. Today, the elevator will supposedly stop on the fifth floor with no one inside. Some guests report seeing an apparition of a boy who disappears through the elevator doors and others report hearing whimpering or crying for help coming from the elevator.
We stayed at the La Concha for 4 nights in 2019 and didn't have any paranormal experiences. We really enjoyed our stay there!
Book the La Concha Hotel in Key West, Florida
Marrero's Guest Mansion
Marrero's is a beautiful, old Victorian home that now serves as an artistic boutique hotel in Key West. Francisco Marrero built it for his wife, Enriqueta, and their 8 children. Enriqueta absolutely loved the house. Sadly, Francisco Marrero died. When his first wife heard of his death, she showed up with lawyers to evict Enriquetta and her children from her beloved home. Enriquetta had no choice to leave. Before she begrudgingly left, she announced that she would always remain in spirit.
Guests can still feel Enriqueta's presence at the Marrero Mansion. Room 18 seems to have the most run-ins with her. If she does not like guests (usually guests with poor attitudes), the chandelier will sway back and forth upon check in. Guests report things moving in room 18, especially in the bathroom. Guests in rooms 17 and 23 will often hear what sounds like babies crying, believed to be Enriqueta's children.
Book your stay at Marrero's Guest Mansion in Key West. Note that it is adults only.
Banyan Resort
The Banyan Resort consists of 6 buildings which used to be individual homes. One used to belong to Captain Phillip Cosgrove, believed to be haunting the Cosgrove House at the Banyan Resort. Captain Cosgrove and his wife, Myrtle, lived there and loved their life in Key West. Some claim he is still there and wanders the grounds. Guests report inexplainable knocking and stolen chocolates from their room.
Chelsea House
The Chelsea House was originally the home of the Delgado family, a successful cigar manufacturing family from Cuba. Mr. Delgado went missing and his wife told anyone who asked that he had gone back to Cuba. On her deathbed, Mrs. Delgado admitted that she killed him and left his body under the front porch. They never found Mr. Delgado's body.
That doesn't stop guests from experiencing strange happenings, though. Some claim to see an apparition believed to be Mr. Delgado or smell pipe smoke. All of the paranormal activity seems to be most active in room 018. Many believe he is there trying to communicate where his body might be.
Haunted Bars and Restaurants in Key West
There is no shortage of haunted bars and restaurants in Key West. While you are out and about, enjoying the amazing Key West nightlife, you may just have some paranormal visitors joining you. It seems that some of the spirits enjoy Key West's vibrant nightlife, too!
Check out the Key West Haunted Pub Crawl and Ghost Tour if you want to learn more about Key West's haunted bars!
Captain Tony's
Captain Tony's is a famous bar in Key West. And maybe a haunted bar. Some believe it really is while others believe that its former owner, Captain Tony himself, was quite a storyteller and made the stories up to draw attention to his bar.
Before Captain Tony's became the great Key West bar we know and love today, it was a morgue. And when a dangerous hurricane ripped through Key West in 1865, it took all of the bodies from the morgue, except for one, out to sea. The one body that didn't wash away was laying in front of the building when the storm had passed. The body was buried under the building where the poolroom is now. While no one is sure if that contributes to the haunted bar's supernatural experiences, it is an interesting past.
If you visit today, you'll see a tree in the bar. But it isn't just any tree. This was a hanging tree back in the day. While many died at the hanging tree, one death stands out in particular; the Lady in Blue. She was hung after murdering her two sons and husband. The neighbors saw their bodies in the yard after she committed this horrific act and called the police. Police arrived quickly and took her straight to the hanging tree. She was still wearing the blue dress she had worn while killing them. The victims' blood still covered her dress. That is how she got her name "the Lady in Blue". Some claim to have seen her apparition at Captain Tony's, still in her blue dress.
There is another spirit residing at the bar. She is believed to be a young woman who came to Captain Tony's looking for her husband. She had their infant baby with her and when she found him drunk and flirting at the bar, she ran to the bathroom, killed their baby, and left. It's unknown what happened to the woman, but there have been some mysterious things happen in the women's bathroom. Patrons report the women's bathroom door opening as though someone is coming or going. Empty stalls have been found locked even when the bathroom is empty.
I will say that I got an eerie feeling in the bathroom when we visited once. It definitely could have been in my head because we were visiting on a rare quiet day, so I was the only one in the area. Of course, I was familiar with the story and everything is just a bit more creepy when you are alone. Made up or not, I definitely tried getting out of there as fast as I could!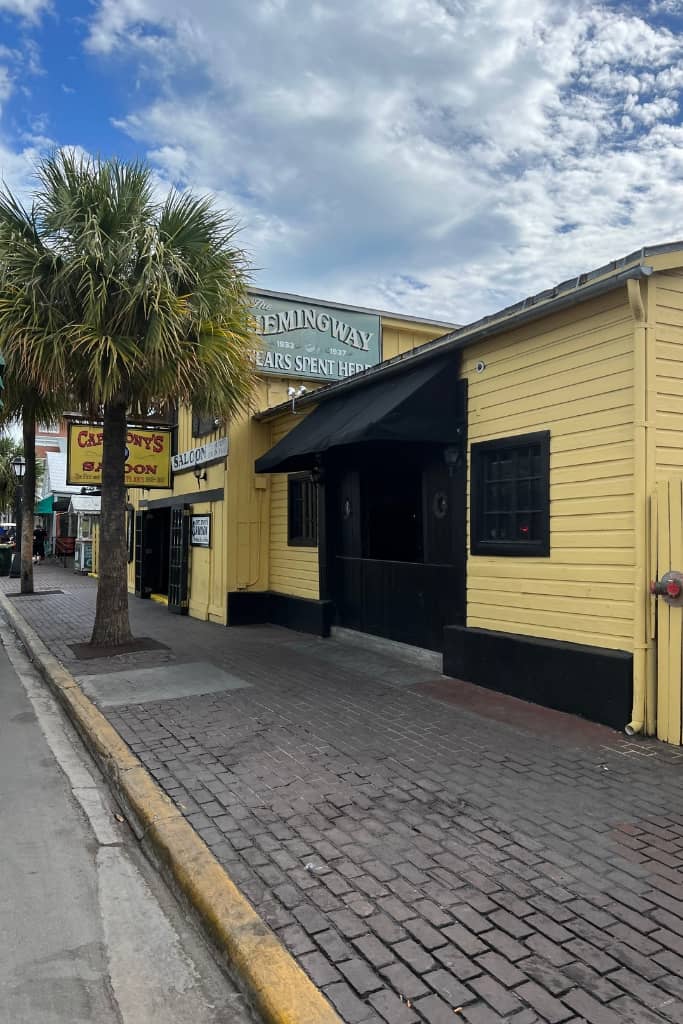 General Horseplay
Wilfred Williams (known as Red) is believed to hang out at General Horseplay. He used to take Hemingway on fishing charters sometimes. Some believe that the urinal in the bathroom at General Horseplay is the urinal that Hemingway took from Captain Tony's and that he's there showing it off. He will lock bathroom doors. People have claimed to see his feet while doing their business, even though they are in the bathroom alone. I haven't been to the men's restroom at General Horseplay, so I can't say whether I've ever felt anything there. And I don't know about you, but if I was going to stick around somewhere, it wouldn't be the bathroom!
Hard Rock Cafe
William Curry was Florida's first millionaire. He built the mansion that is now the Hard Rock Cafe in Key West as a gift to his son. Unfortunately, he later lost his family fortune and killed himself shortly after. Many think that he wanders the halls to this day.
Haunted Museums in Key West
Museums are a great way to learn more about the city you are visiting. And Key West is no different; there are a lot of museums that offer stories of Key West's history. While you visit Key West museums, you might learn something and have a paranormal experience.
Audubon House
Several different spirits could be haunting the Audubon House. Some believe it is Audubon himself. Audubon was building the house.Audubon passed away before the completion of the house, preventing him from ever visiting it. He did visit Key West briefly to study some birds and some believe he returned to the house that he was having built to continue his birdwatching.
Others believe the spirit is John Geiger, who actually built the home. An apparition on the second story of the home is often seen looking out on the water. Many believe this is John watching watching the ships come in. This would make sense because John was a wrecker. A wrecker is someone who would recover people and things from ship wrecks. Ships often crashed into the coral reefs around Key West due to a number of factors. Wreckers would respond to the wrecks. They salvaged what they could and were paid a percentage of what they recovered. John was a successful wrecker but many believe that pirating is what actually made him rich. Rumors suggest his fortune is hidden on the property. Supposedly, John Geiger's spirit has chased people out of the garden, so many believe that this is the location of his true fortune.
While not as well known as some of the others who may still live at the Audubon House, William "Willie" Smith is also believed to still be there. The Geigers lived in the house over 4 generations and 100 years. Willie was the last of the Geiger family to reside there. Many believe he lives on the third floor to this day.
Another spirit could be a young girl named Hannah. Hannah died at the age of 10 and there is a painting of her in the house that many find to be unsettling. People say that the eyes in the painting seem to follow them. Some even report sounds like a child's set of footsteps running to and from the painting as though she is getting out of the painting and returning to it.
Then there is Mrs. Peck. Mrs. Peck is a doll who is supposedly possessed. Weird things happened around her, such as people being unable to take photos of her. The photos would develop with something blocking part of the photo or the photographer's film would unravel from the camera while trying to photograph her. People were seen from the room where Mrs. Peck "lived" but when police investigated, no one was there. Alarms went off only in the children's room, where the painting and the doll were. It was actually because of this that the museum was undergoing an overhaul of their alarm system, resulting in no alarms for a little under 4 hours. Sometime in that 4 hours, Mrs. Peck went missing. Many wonder if she somehow left on her own.
Key West Firehouse Museum
What is now the Key West Firehouse Museum was once Key West's firehouse from 1907-1998. It is one of the oldest firehouses in Florida. When paranormal teams came to investigate, they took several photos that came out with orbs. Another time, a bike tire popped seemingly out of nowhere even though it was brand new. But who is haunting the Key West Firehouse Museum?
Some believe it could be Bum Farto. He loved firefighters his entire life and became the fire chief in 1964. He was caught misusing funds and drug trafficking. While awaiting his sentencing, he disappeared. No one knows where he went.
Shipwreck Museum
No one knows exactly who might be haunting the Shipwreck Museum. Some believe it could be a man that committed suicide from the watch tower. Others believe it could be the wreckers themselves or spirits wanting to retrieve their lost treasure. Either way, visitors report orbs in their pictures and some report feeling uneasy.
You can buy tickets to the Shipwreck Museum if you want to explore these uneasy feelings yourself. It's a really interesting and informational museum!
Hemingway House
After Hemingway's death, it didn't take long for people to start claiming that something supernatural was happening at the Hemingway House. Hemingway wrote many of his books in his office and many report having seen him there. Some visitors even claim to have heard a typewriter as though he is still there writing.
Other Haunted Places in Key West
Key West has haunted in hotels, bars, and museums. But there is more! Below are some more creepy stories and places in Key West you might encounter some paranormal activity.
Gato House
The Gato House got its name from Eduardo Hidalgo Gato, who was a Cuban immigrant. He was instrumental in the development of the Cuban tobacco industry and it was this exact industry that made him very wealthy. Eduardo allowed the house to be used as a hospital when his family no longer lived there. When the hospital closed at the beginning of World War II, it became an apartment house.
The Gato House is now a private residential apartment complex. Some say that Mother Gustens, who ran the hospital, is still there taking care of those living there. One woman reportedly woke up to an apparition holding her wrist in what appeared to be taking her pulse.
Old Monroe County Jail
The Old Monroe County Jail is known to be haunted. There are a few spirits that could be responsible. The first is Osilio Perez. Perez was supposed to be at the jail temporarily. He was going to be transferred to a mental institution, but he hung himself before he could be transferred.
The most well-known potential spirits involve Manuel "Isleño" Cabeza and Angela. Their relationship was taboo, Isleño was Spanish and Angela was Afro-Cuban. In retaliation for the relationship, Isleño was attacked and injured by the KKK. Isleño retaliated by killing a Klan member. Absolute chaos followed; mobs started to form everywhere representing one side or the other. Police told Isleño that they would protect him if he surrendered. While he was wary of the promise, he agreed.
Curry was the head of the police department and was also believed to be a member of the KKK. He told security responsible for guarding the jail that they could go home. That night, 15 Klansmen took Isleño from his unlocked cell. They tied him to the back of a car, drove across town, then hung him from a palm tree. If that wasn't enough, they also shot his dead body.
It doesn't quite end there. Remember his girlfriend, Angela? She practiced voodoo. After the first attack, she made an offering and cursed the men who hurt Isleño. Some believe this worked because the men who killed Isleño died strange and tragic deaths. One was shot and killed. Another taken out to sea in a hurricane. There was a fishing accident. One died when his boat hit a reef. Even Curry, who many believe allowed this to happen, drowned.
Count von Cosel
This isn't a specific Key West haunted place. It's more like a creepy story that's kind of hard to believe. Count von Cosel was a radiologist in Key West. This is how he met Elena Hoyos, who had come to the hospital for x-rays. Von Cosel was smitten by her and also claims to have remembered her from a dream. Von Cosel said he'd been having a recurring dream revealing his true love to him. He says that in his dream, his wife looked just like Elena, even though she was around 40 years younger than Von Cosel.
Elena had tuberculosis. And as with most cases of tuberculosis back then, her prognosis was not good. Von Cosel provided "free radiation treatments" with a homemade invention he had that he claimed would save her. Even though these "treatments" were extremely painful to Elena, her parents agreed with the hopes that it would save her life. While this was happening, von Cosel showered her with gifts and proposed marriage, which she declined.
After 3 painful years, Elena died from tuberculosis. After her death, von Cosel visited her grave for a couple of years until that wasn't enough. One night, he took her body home with him. He "fixed" the parts of her body that were decomposing (such as a glass eye in her empty eye sockets), dressed her in a wedding gown, and placed her body in his bed. He kept her body for 7 years until Elena's sister had caught wind that von Cosel was acting suspicious. When she showed up to ask what was going on, he did not hide what he had done. Instead, he proudly showed off Elena, thinking her sister would be as excited about it as he was.
Authorities removed Elena's body from von Cosel's home. They found during an second autopsy that he had consummated their marriage. The town of Key West put her body on display and people flocked to view her. Von Cosel was arrested. He was later acquitted, likely because a lot of the disturbing details were kept a secret from the jury (like how he consummated the marriage) and the jury took pity on him. Elena was re-buried in an undisclosed location to protect her from von Cosel. He had requested Elena's body be returned to him when he was acquitted, so the judge was worried he would steal her body again.
And perhaps one of the craziest things about this story? Von Cosel had a family the whole time. He had left his wife to come find his true love from the dream. When everything happened, he decided to return to his family, but that doesn't mean he forgot about Elena. A mannequin resembling Elena was next to him when he died.
Fort Zachary Taylor
Even though Fort Zachary Taylor never saw battle, a lot of people died there as a result of various diseases. Supposedly, people have seen soldiers, heard whistles, and will randomly feel cold spots.
Key West Lighthouse
Barbara Mabrity and her husband oversaw the Key West Lighthouse together. Barbara loved this role and continued overseeing the lighthouse even after her husband's death. During a hurricane, 6 of Barbara's children and 14 Key West locals who had sought shelter in the lighthouse died in the storm. Barbara survived and continued overseeing the lighthouse until her own death. Her apparition has been seen on the lighthouse stairs. Some believe she is looking for her children or her husband, others believe she just loves the lighthouse and isn't ready to leave.
The Porter House
Dr. Joseph Porter was the first health officer in the state of Florida as well as Key West's first native-born doctor. He controlled the transfer of yellow fever by recognizing the role of mosquitos in transmitting it. He was born in and died in the Porter House. People who live there report finding their coins stacked or neatly arranged. Others claim to have seen the Dr. Porter's apparition, especially on the first floor bar. He is supposedly known to throw wine glasses. Today, the Porter House has a bar, office buildings, and apartments.
Key West Cemetery
It makes sense that the Key West Cemetery would be haunted. Though we have never had any odd experiences here, many claim to see apparitions. A Bahamian woman protects the graveyard and will approach anyone that is being disrespectful. Visitors claim to feel eerie or see strange orbs of light and others report seeing apparitions.
Robert the Doll
Robert Gene Otto was gifted a doll when he was 4. Some say that it was a gift by someone who wanted to bring a curse onto the family though other stories say it was a gift from the boy's grandfather. Either way, the little boy loved that doll. In fact, he loved the doll so much that he gave him his name. The doll became Robert and the little boy started going by Gene.
Robert and Gene were together constantly. And when something bad would happen, like a broken toy, Gene would say, "Robert did it."
And while it's not uncommon for kids to blame things on others, weird things happened that Gene's parents couldn't explain. When Gene was playing with Robert alone, his mother would hear two voices. One was Gene's but she didn't recognize the other voice. Gene's mother also swore she watched Robert's expression change and he would reportedly move from one side of the room to the other. He especially liked to stare outside the upstairs window.
Gene grew up and married Anne and they settled in the same house Gene (and Robert) grew up in. Anne was not a huge fan of Robert and asked Gene to lock him in the attic. He agreed but somehow, Robert got out. Instead of being locked up, Robert was found in the upstairs bedroom. This didn't happen just once, but actually several times.
Robert remained in the home after Gene's death. Owners noticed the same odd occurrences that others had experienced with Robert so they gave him away. Robert is now at the Fort East Martello Museum. You can still visit him there today.
Even though he is at the museum, locked in a glass case, it seems he is still up to his antics. Employees at the Fort claim that Robert moves around in the his display case at night and claim to see his facial expressions change. Visitors sometimes blame Robert for their misfortunes when they experience unfortunate events after visiting him. To try to change their bad luck after visiting Robert, many will write letters to him apologize and asking for forgiveness. Many of these letters are on display at the museum if you'd like to read them yourself.
St. Paul's Graveyard
The St. Paul's Graveyard is right behind St. Paul's Church. In order to make room for the church, they had to move the bodies. Captain Thomas Mann Randolph and some kids now haunt the cemetery. Captain Randolph enjoys scaring visitors. Many report seeing his apparition as well as the apparition of children. The children are most commonly seen around the statue of an angel that is in the cemetery garden. Others even report hearing their voices and other unexplainable sounds.
The Studios of Key West
They call the spirit in the Studios of Key West the whistler because he doesn't like it when people whistle. When they do, he may knock things around or even push people. It may be Eugene Locke, who used to be a principal at a school. The school was once located where the Studios of Key West are.
Key West Theatre
The Key West Theatre was previously an abandoned building. Before that, it was Club Chameleon. But even before it was Club Chameleon, it was a church with a not-so-happy past. The minister's wife was having an affair with the deacon and he retaliated by setting fire to the church when the two were inside. However, the minister was unaware that there were also 14 kids inside and they died, too.
I went on a ghost tour that brought us to the theatre in 2007. Before the guide could tell us the odd things that people experience there, I smelled smoke. I actually thought someone was smoking somewhere and didn't think much of it, but there was no one nearby smoking. Other than some orbs I caught on my camera at Marrero's, this is actually the only place I've had something happen. Was the smoke something paranormal or just a figment of my imagination?
People don't seen to talk about the paranormal as much ever since the building became the Key West Theatre. Before it was converted, it was said that you could hear tapping from the inside of the building, even though the building was empty. Others have described feeling uneasy or feeling that the door felt unexplainably hot.
Hopefully this article helped you learn more about Key West haunted experiences! Key West is known for its tropical paradise and nightlife, but there is a lot of history on this little island. Even if you don't have a paranormal experience on your visit, hopefully you enjoyed learning more about the history of Key West.