Dunedin, Florida, (pronounced Done-ee-din) is one of my favorite small towns in Florida. It's been a hidden gem that's definitely gained popularity over the past few years. Dunedin is a little over 30 minutes from Tampa and about 10 minutes from Clearwater. Locals and visitors alike love Dunedin for its small town feel. But Dunedin is the best of both worlds because you get the small town feel yet there are always community events going on, plenty of breweries to choose from, and several great restaurant options. Golf carts are a popular mode of transportation and Dunedin is very dog and family friendly. It's also great for almost any population – it can be a romantic getaway, a girls trip, and it's family friendly too! In other words, you'll find plenty to do while still having that small town charm.
Dunedin is also great to visit for any amount of time. We have taken plenty of day trips there, but it is also a great weekend trip or vacation destination. If you plan to visit Dunedin, I think you'll find this article on the best things to do in Dunedin, Florida, to be helpful. And if you don't currently have plans to visit, hopefully this will make you want to add it to your plans. It truly is one of the best small towns in Florida!
Events in Dunedin
One of my favorite things about Dunedin is all of the activities. It seems like there is always something to do or something going on. Most events are located in downtown Dunedin, where they close off the streets for everyone to wander the events and local businesses.
Dunedin has a downtown market every weekend from November through June with local food, crafts, and live music. Dunedin also has plenty of special events each year. My favorite is Wines the Blues, which is a weekend full of wine (plenty of craft beer can be found as well) and live music each November. They have a lighted boat parade for Christmas each December, a Mardi Gras parade (the largest Mardi Gras parade in Florida, actually), and St. Patrick's Day celebrations. Their Highland Games and Festival in the spring and Celtic Music and Craft Beer Festival in the fall are also popular events. Overall, Dunedin is always down for a community celebration and the community shows up for these events (usually in golf carts).
Outdoor Activities in Dunedin
Dunedin has plenty of things to do outside. In the hot summers, there are plenty of water activities and beaches and in the cooler months, you can enjoy plenty of walking trails. Many people love Florida for its weather and Dunedin has plenty opportunities to get out and enjoy it!
Dunedin Beaches
Dunedin has some of the most beautiful beaches. Dunedin's beaches are undeveloped, giving you an opportunity to experience "real" Florida. I have listed the beaches considered to be in Dunedin, but you could also take a day trip to Clearwater Beach which is closeby.
Honeymoon Island State Park
Honeymoon Island is a 385 acre state park. It boasts a beautiful beach as well as trails through a pine forest. If you want to learn more about the park's history, you can visit the Rotary Centennial Nature Center which is located on the island. Honeymoon Island also has a dog beach, picnic tables and pavilions, a playground, several miles of nature trails, and a cafe. You can rent bikes or kayaks within the park as well.
There is a fee to enter Honeymoon Island of $8 per vehicle ($4 for a single occupant vehicle) and $2 for pedestrians and bicyclists.
Honeymoon Island is also where you can catch the ferry to access Caladesi Island State Park. Honeymoon Island and Caladesi Island used to be one island until a hurricane hit in 1921 and separated them.
Caladesi Island State Park
Caladesi Island State Park is one of the few untouched islands on Florida's Gulf Coast. Part of what keeps Caladesi Island so remote is that there is no vehicle access, you can only get there by boat or on the public ferry. When the tides allow, you can walk around two miles to Caladesi Island from Clearwater Beach. Kayak rentals are available from the Dunedin Causeway and you don't need to pay to enter Honeymoon Island if you choose this option.
If you want to take the ferry to Caladesi Island, you do need to pay the entrance fee to Honeymoon Island (approximately $8 depending per car, depending how many people you have) as well as the ticket for the ferry ($16 for adults, $8 for children).
Dunedin Causeway
The Dunedin Causeway leads from Bayshore Boulevard to the entrance of Honeymoon Island State Park. The causeway has plenty of free parking. There is water on both sides and people enjoy fishing, swimming, and paddling here. Kayak rentals are available from Sail Honeymoon if you'd like to kayak to Caladesi Island.
Dunedin Parks
There are plenty of parks in Dunedin. In addition to my favorite parks below, as you drive around town, you might notice some "random" waterfront parks. They're typically very small parks with a bench to enjoy water views, and they add such a nice touch to the town.
Edgewater Park
Edgewater Park is a waterfront park located at the Dunedin Marina. It's a cozy spot with trees and shade, picnic tables, a playground, and public restrooms. The park has a nice view of the marina and it's a great spot to let the kids play, take your dog for a walk, or relax with a good book. It's a great spot for sunset as well.
Hammock Park
Hammock Park is located right in the middle of town yet feels like a world away. The 90 acre park has nature trails, picnic pavilions, an observation platform, restrooms, and a playground. There are several different trails within Hammock Park so you can walk as much or as little as you'd like. The trails are well marked and many are also shaded. There are also signs throughout the paths if you're interested in learning more about the vegetation. It's a great place for bird watching. The park has a butterfly garden which serves as a habitat for butterflies. Hammock Park is dog friendly. There is no entry fee and parking is free as well.
Fred Pinellas Trail
The Fred Pinellas Trail, usually referred to as the Pinellas Trail, is one of the oldest rail trails in the United States. The trail spans 39 miles in Pinellas County, Florida and it's paved for walking, jogging, cycling, and skating.
The Pinellas Trail runs from St. Petersburg to Tarpon Springs and cuts through the heart of downtown Dunedin (you can even take the trail to Honeymoon Island!). If you're interested in renting bikes, you can do so from Kafe Racer. They are conveniently located right on the trail in Dunedin and even have electric bikes available if you'd like to check out more towns outside of Dunedin like Tarpon Springs, Clearwater, or Clearwater Beach. You could also take a bike tour with Dunedin Bike Tours if you'd like a guided tour.
Weaver Park
Weaver Park is a that's located on each side of Bayshore Blvd, with land on one side and water on the other. The land side has playgrounds, picnic areas, restrooms, and a fitness area. The water side has a fishing pier and beautiful views of the water. There is occasionally music on Saturday evenings.
Kiwanis Sprayground
Kiwanis Sprayground is a great spot for kids and families. Their large splash park is a great way to escape the Florida heat and best of all, the splash pad is free. Nearby you'll also find a non-water playground, tennis courts, and ball fields which are also free. There is a large olympic-sized pool which charges a $3 entrance per person.
Dunedin Art and Murals
Dunedin has several murals and other forms of street art. Throughout the city are several dolphin sculptures, which are fun to find. During the holiday season, businesses decorate the light posts and it's fun to see tons of different creative ideas. One of my favorite murals is one that gets changed for the season. You might find a turkey for Thanksgiving or Santa during Christmas.
Toronto Blue Jays Spring Training
The Toronto Blue Jays do their spring training at TD Ballpark in Dunedin. They actually just resigned a contract agreeing to stay here for spring training for the next 25 years. After the Toronto Blue Jay's spring training ends, the Dunedin Blue Jays play here. The Blue Jays are a minor league team. Their games are really fun with various events such as dog night, $2 wine/beer night, fireworks after the games, and more.
Museums in Dunedin
Dunedin has some great options for museums which offers a great way to learn about the town. Museums are always a great option when the Florida heat makes it too hot to be outside or if you happen to be visiting on a rainy day.
Dunedin History Museum
The Dunedin History Museum is located in the heart of downtown Dunedin in the former train depot. It opened in 1970 and is a great place to learn about the history of Dunedin. Admission is $7 for adults and $5 for children/seniors. They have a gift shop which is free to enter and has some unique items worth checking out even if you don't go to the museum. It's also worth noting that the staff and volunteers hare are well known for being very helpful and friendly!
Penny Lane Beatles Museum
Dr. Robert Entel founded the Penny Lane Beatles Museum in 2017. He was a long time resident of Dunedin and the museum includes his own personal collection. The collection is pretty impressive and includes momentos and Beatles-era memorabilia. It is free to enter and is worth a visit whether you are a Beatles fan or not. Note that at the time of this writing, the museum is open Thursday through Sunday.
Dunedin Fine Arts Center
Five women from the Junior Service League wanted to bring more of the arts to the community back in 1969. The League and the city agreed that the art center would be a good way to do this and construction on the Dunedin Fine Arts Center started in 1974. Today, you can take a number of classes such as calligraphy, clay, digital arts, drawing, and more. There is a children's art museum with youth classes such as painting and cooking as well as classes for teens such as journaling, cooking workshops, and digital painting.
Best Restaurants in Dunedin
The Living Room on Main Fun fact – this was the last place we went out for brunch before the you-know-what in 2020. The Living Room on Main takes a lot of pride in their food, which is upscale yet down to earth at the same time. They have distinct areas with different tablescapes and decor and the bar is random which makes for a really unique atmosphere!
Taco Baby is great if you're wanting something quick. It's a tiny spot because the building is actually a repurposed ATM! This honestly adds to its charm. They do have a couple of tables outside if you want to eat there, just don't expect a nice sit down experience. Their tacos are good and I enjoy taking them to go.
Caracara has delicious upscale fusion and I don't know what I like better, the food or the craft cocktails. Caracara has tapas as well as full size meals. We ordered several different tapas to share as a table and everything was unique and very good! I also loved my specialty cocktail, the damri.
The Black Pearl is a fine dining restaurant in Dunedin. It was originally a barbershop when it was built in 1905. There are only 12 tables at The Black Pearl so reservations are recommended.
Lucky Lobster is located right on the Pinellas Trail specializing in casual seafood dishes and a raw bar. Lucky Lobster has indoor and outdoor seating and there is often live music on the weekends. This is actually how we stumbled upon it – we were wandering from one brewery to another and really liked the vibe of their outdoor seating and live music. They have a lot of great food options, I loved their pizza with shrimp, lobster, gouda, sriracha, and aioli.
Clear Sky Draught House serves breakfast, lunch, and dinner. It's located just outside of the heart of Dunedin, so we drive by every time we come to town and it seems like it's always busy. Everyone seems to love Clear Sky and they really do have great food. I would consider it upscale bar food with a little something for everyone, from filet mignon to pasta and burgers. There is a large beer menu, plenty of outdoor seating, and TVs as well.
Frenchy's is a famous restaurant in the area with several locations, mostly in Clearwater Beach. But Dunedin is lucky enough to have a location with Frenchy's Outpost. They are most known for their grouper sandwich, and I love their garlic crab fries just as much. The Dunedin location is not located in the downtown area and is closer to the Dunedin Causeway making it a great spot to stop before or after your trip to the beach.
Bon Appetit is a fine dining seafood restaurant right on the water overlooking St. Joseph's Sound. Every table has a water view! Bon Appetit has been open since 1976 and has won several awards for their food. There is often live music and they have a nice outdoor bar as well.
Pisces Sushi is one of my all time favorite places to get sushi. They have a convenient location in downtown Dunedin with indoor or outdoor seating. When the weather isn't too hot, we love sitting outside to people watch while we eat. Pisces has a great happy hour from 3 to 5 Tuesday through Friday with specially priced drinks and sushi rolls.
Hog Island Fish Camp – In full disclosure, I have not personally tried Hog Island Fish Camp but my friends assured me I could not write this article without including them. They make traditional dishes with locally sourced food.
Crown and Bull is a modern American restaurant known for their breakfast and brunch. The inside is a modern, sleek design and they also have outdoor seating. Crown and Bull makes their dishes from scratch and uses local vendors. I love their outdoor area and while they serve good food, it's also a great place to stop by for a drink.
Kookie Krums is the best place for dessert and my absolute favorite bakery. When my husband and I were expecting our first baby, we often came to Dunedin after our doctor appointments and we would stop at Kookie Krums every time. Their cupcakes are the best I've ever had, but everything they have is delicious.
Places to Grab a Drink in Dunedin
There is no shortage of places to grab a drink in Dunedin. There are plenty of breweries, bars, and even a nightclub.
Dunedin Breweries
I absolutely love breweries and perhaps this is why I have such a soft spot for Dunedin. Dunedin is actually home to Florida's first brewery; Dunedin Brewery opened in 1995. Since then, several other breweries have joined. I genuinely do like every brewery in Dunedin, but these are my favorite. If you have plenty of time, you could visit all of them and see which are your favorites!
Dunedin Brewery – As mentioned, Dunedin Brewery is Florida's first brewery. They have a full menu and we have liked everything that we've tried there. They also have a good live music scene on weekend evenings.
HOB – HOB is one of our all-time favorite breweries. We always get their peanut butter blonde, which is one of my favorite beers not just at this brewery, but of all time. They have a huge outdoor area and are located right on the Pinellas Trail.
Beach Island Brewery – Dunedin's newest brewery, Beach Island Brewery, has won over the locals. They are often busy because people really love this place! They are not located in downtown Dunedin like many of the other breweries, so this would be a great place to start or end the night (or day, whenever you're visiting). We were really impressed by the owner who took his time to get to know us, provided us with free samples, and made sure we enjoyed our visit (and we did!) I love that their beer list is ever changing and they are not scared to try new and unique beers.
Other breweries in Dunedin include Caledonia Brewing, 7venth Sun Brewery (a great spot if you like sours), Woodwright Brewing Co (primarily German and European style beers; also my favorite brewery for outdoor seating when the weather is colder, they have the best outdoor vibes with fire pits), Cueni Brewing (prounced Q-Knee, also located right on the Pinellas Trail), and Soggy Bottom Brewing Co.
Dunedin Bars
Reboot is such a gem. It's an arcade bar with tons of fun games. Reboot has pinball, video games, board games, and more. It's also a bar with beer, wine, and sake so you can grab a drink while you play.
Hi-Fi Rooftop Bar is located in the Fenway Hotel. Hi-Fi Rooftop Bar has beautiful water views from 3 stories up. The prices are on the higher end but in my opinion, that's to be expected at a rooftop bar at a boutique hotel with water views. It can get crowded so if you are wanting to watch the sunset, I recommend getting there early. If you don't care about the sunset, you can go right after sunset and it won't be very crowded at all.
Honu Restaurant and Tiki Bar got its start as a food truck before it became the full service restaurant it is today. The Honu serves island-style food and has a menu that changes daily and the owners take pride in making it a warm, inviting place to gather. The tiki bar area has plenty of seating and live music.
Sonder Social Club is Dunedin's first craft cocktail bar. Sonder Social Club has trendy decor, light bite options, and good drinks. Drinks are a little more expensive here, but they do have happy hour specials. During the holiday season, they have a Christmas pop up experience where they transform their space into a wonderland with tons of festive decor.
Blur is a nightclub in Dunedin if you'd like to dance. They have open mic nights on Wednesdays and live music on the weekends. Blur also has a nice outdoor area and a food truck.
Shopping in Dunedin
Downtown Dunedin is home to some great small, locally owned shops. You'll find a little of everything from a dog boutique to a crystal shop and everything in between. Wandering the quaint streets of Dunedin and stopping into the shops while doing so is a great way to spend the day.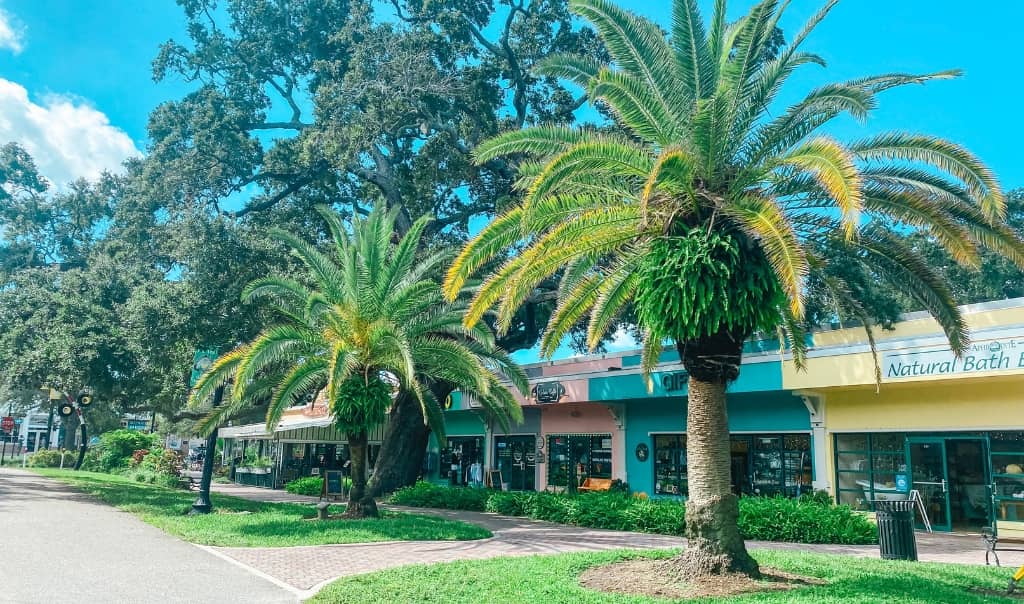 Getting Around Dunedin
If you plan to stick to the downtown area, you technically don't need a car. However, you might want transportation to get to Dunedin from the airport. Dunedin is around 35 minutes from the Tampa airport and around 20 minutes from the Clearwater airport. The beaches are also around 5 miles from downtown Dunedin. So, you could Uber but may prefer to rent a car depending on how much you want to visit in the area. Either would work, it really depends on personal preference.
One option for transportation is the Clearwater Jolley Trolley. It runs between Clearwater and Tarpon Springs with stops in Dunedin. It's $2.25 per ride or $5 for the day. Just make sure to bring exact change as that is required to ride. Their website has a list of their stops and schedule.
Where to Stay in Dunedin
The Fenway Hotel is iconic. Built in 1924, it is Dunedin's oldest hotel with a history in Tampa Bay's music scene. The Fenway honors its past with 1920's decor throughout the building. It actually sat empty for several years until it opened as a hotel in 2018. This is where the Hi-Fi rooftop bar is located that I mentioned earlier. There is also a full service restaurant, pool, and fitness center. The Fenway is a bit farther from downtown Dunedin than some of the other options but still easily accessible, especially with the complimentary bikes you can use.
In a town as charming as Dunedin, it makes sense that a bed and breakfast would be a popular choice for accommodation. There are several to choose from. Meranova Guest Inn and Beyond the Wall are great options.
At the Best Western Plus Yacht Harbor Inn, every room has a view of St. Joseph Sound. It's also in a great location with walking distance to all of what downtown Dunedin has to offer.
For a unique stay, you could also check out Dunedin Tiny House Vacation Rentals. I have not stayed here as they are brand new and have just opened at the time of this writing, but I'd love to check them out. They're located in walking distance to downtown and on the Pinellas trail.
Hopefully this article gave you some great ideas on things to do in Dunedin, Florida. It truly is one of my favorite Florida towns. If you decide to visit, I think you'll like it, too.