Turtle Beach, Florida, is a quiet beach compared to its neighbor, Siesta Key, Florida. Siesta Key is well-known not just because of MTV, but also because it was voted #1 beach in the USA in 2020. In fact, it has been rated the #1 beach three times since 2015. That's actually what brought my husband and I to Siesta Key the first time and Siesta Key quickly became one of our favorite beaches, too.
Turtle Beach is just down the road from Siesta Key, but until recently we hadn't been there. With time off of work and a desire to explore, I recently headed there for a solo day. And I loved Turtle Beach so much that I almost just want to keep it a secret for myself. But I'm thankful to those who went before me and passed on the good word. So, here's what I loved so much about Turtle Beach, Florida, and all you need to know to plan your visit, too.
Where to Stay in Turtle Beach, Florida
Other than the Turtle Beach Campground, there aren't accommodations on Turtle Beach. The most popular place to stay is nearby in Siesta Key, Florida. Airbnbs and VRBOs are popular in Siesta Key. If you are more of a hotel person, the Sea Spray Resort is one of the top rated places to stay in Siesta Key.
What People LOVE About the Sea Spray Resort
Excellent Location
Free Parking
Family Rooms
Relaxing Pool
The Beach
The water was so many shades of blue and green. It was absolutely stunning and I could not get enough! Turtle Beach has a bit of a downward slope to it. In my opinion, this makes it all the more gorgeous as you have an amazing vantage point. I was in awe of all the colors!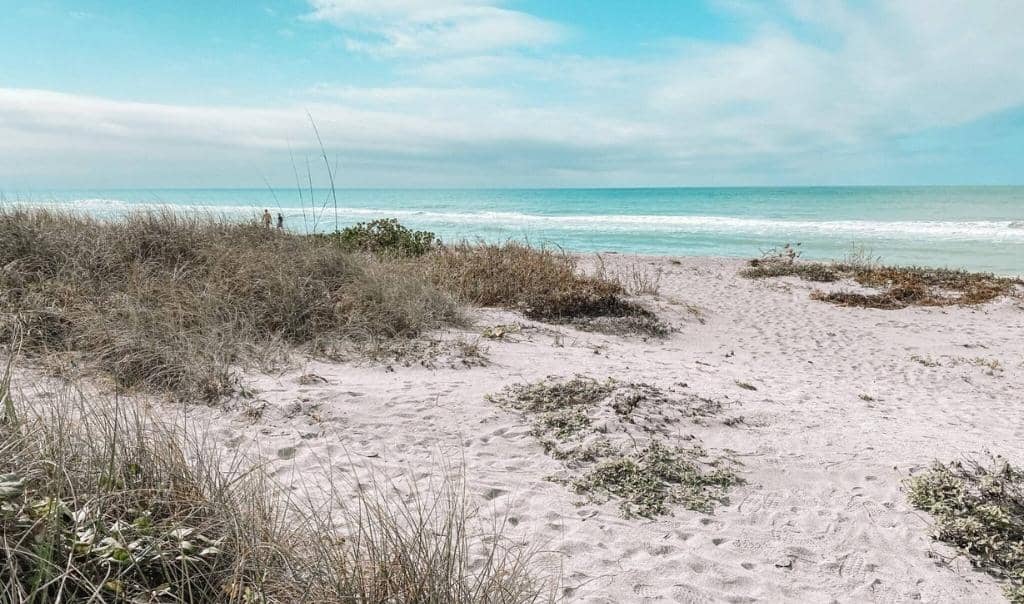 Parking at Turtle Beach
We've all been to beaches where we have to park far away from the beach. Or we find close parking but the beach is wide so you trudge through the sand with all your gear for what feels like forever. As a beach lover, I firmly believe that beaches are worth the hike. But it's always nice to not have to. Parking here is close and huge bonus, it's free!
Crowds (or Lack of!)
My favorite thing about Turtle Beach is that it is quiet. You are not likely to find the same crowds that Siesta Key brings.
Shelling
The shelling at Turtle Beach is wonderful! I found so many amazing shells to bring home. I even found a sea urchin. He was alive so I put him back, but finding sea urchins has been a rare experience for me so I was really excited!
Things to do at Turtle Beach
Right across the street from the beach, you'll find Blind Pass, which is a great place to launch a kayak or paddle board! Siesta Key Paddleboards are conveniently located there for all your rental needs. It would be really fun to rent a paddleboard or kayak then relax on the beach afterwards! Turtle Beach also has a volleyball court, playgrounds, and a small packed-sand walking path with views of the beach.
Turtle Beach Campground
The Turtle Beach Campground is located just steps away from the beach. This is a big deal because there aren't many campgrounds with direct beach access in Florida. You can find additional information about the campground and book your reservation here. But important notes are that no campfires are allowed and no animals are allowed, with the exception of service animals. You can camp with a tent or an RV and there are both restrooms and hot showers.
See Florida Wildlife
Sea turtles use this beach to lay their eggs. If you happen to see a sea turtle, please keep some space between yourself and the turtle because they can get spooked and return to the water without laying their eggs. If they try to nest unsuccessfully too many times, they will eventually nest in a less-than-optimal area. This is important because sea turtles already have so many hurdles that we don't want to start their lives out more difficult than they need to be. Another thing that can spook turtles is lights. If you're on the beach at night during turtle season (May through October), please keep light use to a minimum as the light may also prevent a sea turtle from coming to shore to lay their eggs. This includes things like flashlights, lanterns, and even light in a hotel room/house. If you couldn't tell, I love sea turtles.
What to Know Before You Go
If you are staying in Siesta Key, you can take the Siesta Key trolley to Turtle Beach. It will be the trolley's last stop.
There is a boat ramp to launch your own kayak if you prefer to bring your own instead of renting.
The sand is a bit different than what you'll experience on other Florida beaches. It is brown and coarse, which also makes it a little more difficult to walk on. If you are a beach walker, this may be useful information. If you're not a beach walker, it is unlikely to affect you too much.
Earlier I mentioned that the beach slopes downward. While this creates a beautiful vantage point, the floor shelf does drop quickly once you hit the water. This may make it difficult to get in for individuals with mobility issues or small children.
If you get hungry, The Turtle Beach Grill is located across the entrance from Turtle Beach. It offers both indoor and outdoor seating. This is a great option for a meal while you're there! There are several restaurants in Siesta Key just down the road as well.
There are no lifeguards on duty.